MATERIALS HANDLING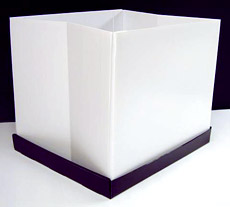 With an excellent strength to weight ratio, easy to cut, crease and machine tool, Corriboard is a versatile product used extensively throughout many industries. Available in a range grades twinwall PP will offer handling solutions from the most lightweight to the heaviest engineering applications.
Bulk Liquids
Metal frame liners
Freight container door retainers
Collapsable pallet sleeves
Moulded Components
Self locking cases for container caps
Layer Pads
Colour options
Range of grades and strengths
Archive Storage
Moisture resistant for long term or underground storage
Colour coded for first glance document classification.
NHS patient file systems
Air Freight Pallets
With a profile structure composing 70% air, Corriboard is the perfect medium for the logistical movement of goods in a weight sensitive air transport environment. The product is, with airline approved status, in use for the safe air freighting of whole fish globally. Real cost benefit is achieved through the combined performance of good strength and light weight and clever design.
Factory Transit Trays
Collapsible self locking trays
In excess of 100 assemble/collapse cycles achievable depending upon use
Anti-static option available
PCB handling with conductive sheet